Posted: February 29, 2016
As it's the last day of February, I wanted to write a quick update for my 2016 resolutions.
1. Start learning Italian - (600 day streak on DuoLingo)
Unfortunately this has not been the best month for me in terms of DuoLingo. This past weekend was Hawk Weekend (more about that in point #4), and unfortunately I didn't do my necessary 20 XP on Saturday. As a result, I lost my nearly 360 day streak. I am not going to let that stop me, however, as it is still possible for me to regain a 300 day streak by the end of the year. I need to make sure that I don't let my loss of my streak discourage me from the underlying purpose of my goal, which is to learn a new language.
Something else that I have been noticing is that I'm not retaining as much Italian as I would like. I think that this is largely due to the number of other activities I have been taking part in - I think I simply haven't been dedicating the necessary amount of time to this goal. My plan is to switch back to reviewing German for the remainder of this semester, and then I'll pick Italian back up again during my summer break.
2. Keep at least a 10.5 GPA across all courses
Although nearly 25% of February was taken up by Reading Week, it was a busy month for me in terms of midterms. Earlier this month I wrote midterms for both Linear Algebra and Calculus, and just this past weekend I wrote midterms for Business and Computer Science. Although I don't have my marks back for my two most recent midterms, I am very happy with my performance on both Calculus and Linear Algebra.
After joining both Upgrade and House Council at the beginning of this term, I was a little worried about whether or not my academics would take a hit. So far I don't think that has been the case, and I would even go so far as to say that the increase in commitments has forced me to do an even better job at managing my time. March isn't as busy a month in terms of midterms, but I do have my final group project (a report and a presentation) for Business.
3. Write an ebook
February was another month with not much progress in this area. For some reason I'm not treating this resolution as serously as my other goals.
Last month I talked about potentially writing about the importance of basic math in our society. While I still think that this is a potential topic to write about, I have no clue whether or not I could find any data or research in this area. While an ebook is definitely something that I want to get done this year, I think that it might be more reasonable to set this goal aside until I'm finished with exams and have more time to focus on this area.
4. Spend semesters 2 & 3 at university getting more involved with everything Laurier offers
With Reading Week taking up a large part of February, Hawk Weekend was the biggest activity that occurred. Hawk Weekend is a yearly event, spanning an entire weekend, where all of the residences at Laurier compete against each other. It's an extremely spirited event with multiple events each day.
Coming into Hawk Weekend, King St. Residence was already in third place for Activity Points. This was because of our extremely strong performance during preliminary events that had already taken place. While I did have my Business midterm Saturday afternoon, I was still able to take part in every single event during the weekend. Hawk Weekend was also a great opportunity to meet more people from my residence.
Although we didn't win the overall event, we still took home a trophy. Our strong performance in each of the activities allowed us to be the Activity Cup winner for the overall event. I now understand what Laurier students mean when they talk about Hawk Weekend - it truly was a memorable, fun-filled weekend!
I think that's it for my February update. I think the second semester has gone very well so far, and I'm looking forward to all that I can get accomplished in March. I can't believe in just over six weeks I will be done my first year of University!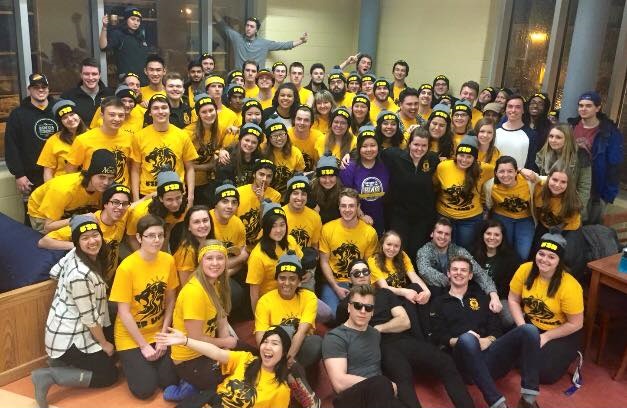 King Street Residence - Hawk Weekend 2016
Back to the Blog Archive